Water of Unity
04/23/2007

Former anti-mining villagers thank TVIRD for water system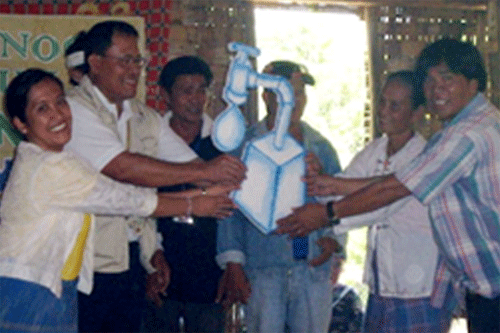 Fernandez Anda's expressions of gratitude for the Water Supply System that TVI Resource Development Philippines, Inc. (TVIRD) donated to his community gave Company personnel encouragement and hope that, gradually, he and his fellow residents at Sitio Solongsangan are beginning to realize that mining, done with social conscience, can bring development.
Anda, a Subano anti-mining advocate, thanked TVIRD's Community Relations and Development Office (CReDO) officers on behalf of Elino Tii, Solonsangan's resident timuay (Subanon tribal leader) during the water system turnover ceremonies recently in this section of Tabayo, host barangay of TVIRD's Canatuan Project in Siocon, Zamboanga del Norte.
In thanking TVIRD, Anda referred to the theme of the turnover rites, "Tubig nog Pegsolobukan" – Water of Unity – to describe the potable water supply to which his community now has access…courtesy of a Company he often spoke against.
He pointed out that, despite Solonsangan's reputation for being a staunch anti-mining hotbed, TVIRD, thru CReDO, reached out to community residents and implemented the project without question. Now they have a basic service that they lacked for generations.
The ceremonies began with a padugo (bloodletting) – a Subano ritual that involves animal sacrifice; said to ward off evil spirits and to honor Ginoo – at the reservoir site. The ritual was solemnized by Armando Davi, a baliyan (Subanon priest). The formal turnover ceremony was then held at the glopaw, the traditional Subanon church.
Tabayo Barangay Captain Bonifacio Patoh, for his part, said the cooperation of Solonsangan residents in this project came as a surprise – and highly remarkable. Patoh, who is also chair of the Siocon Subanon Association, Inc. (SSAI), urged and challenged the residents to be more active and supportive of social development projects being implemented by TVIRD under its Social Development Management Plan. He explained that working hand-in-hand with the Company in the implementation of its SDMP will ensure them of a better quality of life and will facilitate the achievement of sustainable development in their community.
For years, most residents of Sitio Solonsangan were critical of the mining operations of TVIRD in the area. But after witnessing themselves the Company's sincerity in implementing its SDMP, many in the community finally decided to open up to CReDO personnel who, in turn, have since taken this as an opportunity for healthy dialogue.
The Solonsangan Water System Project cost PhP390,000 to build. It now serves a total of 52 households, 90% of whom are Subanon. Thirteen 460-liter capacity water tubs with two faucets or tubs each were strategically distributed around the Sitio for easy access. (Rene Patangan)