TVIRD supports Zambo Peninsula sports meet
04/03/2007

Host town accessed through infrastructure built with TVIRD's help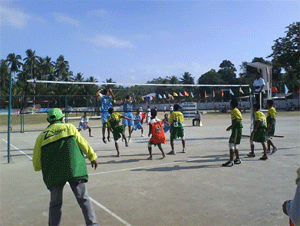 All roads led to Siocon town – through the Canatuan mine site! – when the best athletes of Zamboanga Peninsula competed for 40 medals in a 6-day regional sports meet last month. TVI Resource Development Phils. Inc. (TVIRD) also guaranteed the tournament's success by providing, among others, sports equipment, food and entertainment for the participants, as well as by sponsoring the media coverage for the event.
The annual Zamboanga Peninsula Regional Athletic Association (ZPRAA) Meet brings together hundreds of young athletes from the elementary and secondary levels of the provinces of Zamboanga del Norte, Zamboanga del Sur and Zamboanga Sibugay, and the cities of Zamboanga, Isabela, Dapitan, Pagadian and Dipolog – all comprising the Zambonga Peninsula in the island of Mindanao in Southern Philippines.
TVIRD., which operates a gold-copper mine in Canatuan, Barangay Tabayo, Siocon, literally paved the way for the delegates, the local media and sports enthusiasts, who arrived at the sports venue safely through the roads and bridges that the Company helped build and regularly maintains.
And the winners are…
Zamboanga City finished with a total 631 points in both Elementary and Secondary divisions to win the Overall Championship. The city dominated all the ball games, swimming, gymnastics, table tennis and taekwondo on both levels but fell short in archery, tennis, sepak takraw and arnis.
Zamboanga Sibugay, Zamboanga del Norte and Zamboanga del Sur battled it out closely for the second, third, and fourth spots, respectively, while the cities of Pagadian, Isabela, Dapitan and Dipolog trailed behind.
In the Elementary Division, Zamboanga City pulled away with 285 points, with Zamboanga del Norte following closely with 236.5 points. Zamboanga Sibugay finished third with 184.5 points, just a slim margin over Zamboanga del Sur's 176.5 points.
In the Secondary Division, Zamboanga City ruled with a commanding 346-point finish. Zamboanga Sibugay ranked second with 265 points, while Zamboanga del Sur' came in third with 223.5.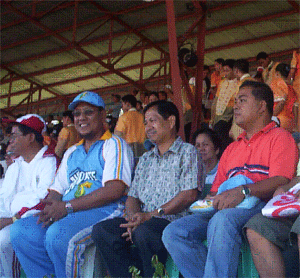 Successful, despite blackout
An 15-hour long power outage failed to dampen the morale and spirit of the organizers and athletes.
Instead, according to Siocon Mayor Ceasar Soriano, the incident made them even more determined to ensure the success of the event. Regional Department of Education (DepEd) officials led by Director Sharif Adzar Sarahadil confirmed that it was "the most successful sports meet" they attended.
Siocon 70th anniversary
The ZPRAA Meet culminated with the celebration of 70th anniversary of Siocon on March 10th at Tanghalan ng Paraiso, located at the town center.
Soriano acknowledged the various local government agencies and the business sector, spearheaded by TVIRD, for the success of the event.