Employees form Labor-Management Council
08/02/2006

Towards a well motivated, participatory and happy work environment at TVIRD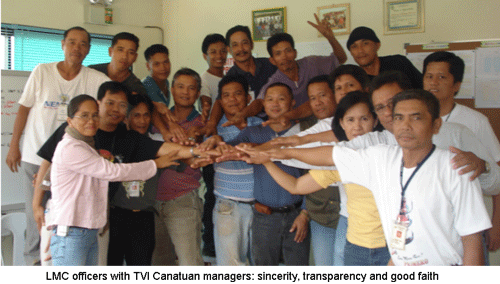 TVI Resource Development (TVIRD) employees at the Canatuan gold-silver project in Zamboanga del Norte recently formalized the establishment of the Labor-Management Council (LMC), marking a significant milestone in their effort to promote a culture of competence and commitment in serving the Company and its stakeholders.The LMC is a consultative approach in identifying and addressing employee concerns, according to TVIRD VP-Human Resources Rene de Ocampo. "In the same manner, management concerns are communicated to employees to create a better understanding of the Company's business plans and objectives," he further explained.
Employees nominate their department's representatives who participate in regular dialogues with TVIRD-Canatuan managers to effectively address both management and employee concerns/issues.
In a meeting with the managers on July 29, LMC chairman and safety inspector Willy Tumangkis said the rank and file employees recognize TVI's "sincerity, transparency and good faith" in treating its work force. "Thus the collective motivation to be 'strategic partners' of management in promoting positive industrial relations," Tumangkis explained.
Paulito Goon, Subanon employee assigned as lead man in the Environment Department, along with machine operators Rolando Dolorosa and Mardino, expressed support to TVI management and the LMC: "Nakikita namin na ang TVI management ay nagbibigay ng sapat na benepisyo sa lahat ng manggagawa. Dahil sa kabutihan na ipinakita ng kumpanya, madali naming nalalapitan ang management sa lahat ng aming mga problema. Dahil dito, kami ay nanunumpa na kusang-loob na susuporta sa lahat na aming gagawin. (We can see that the TVI management provides for the benefits of all of its employees. Because of the concern shown by the Company, it is easy for us to approach the management with regard to our problems. Because of this, we pledge steadfast support in all our undertakings)."
Yulo Perez, Canatuan General Manager, welcomed the move, calling it a manifestation of the employees' solidarity. "I am pleased that the employees volunteered to formalize the LMC," he noted. "The LMC plays an important role in ensuring organizational success, given the appropriate application of their knowledge about — and advocacy among — employees towards a well-motivated, participatory and happy work environment."
"I am hopeful for the success of LMC and the synergy it will fuel in promoting the kind of culture that, I believe, will enhance our productivity, efficiency and the development of our host community," Perez added.
All 427 rank and file employees of TVIRD-Canatuan had enlisted in the LMC. As of end-July 2006, manpower totaled 653, including management and casual employees. Of the total count, 54 percent come from Zamboanga del Norte, and 27 percent from Zamboanga Sibugay. Subanon men and women comprise 41 percent, which is expected to increase when the Company implements its trade skills training program for the indigenous community.
TVIRD operates on a Mineral Production Sharing Agreement (MPSA) covering 508 hectares on Mt. Canatuan, Siocon, Zamboanga del Norte (550 miles south of Manila).
Producing gold and silver over a mine life estimated to end mid-2008, TVIRD earlier reported expansion of the Canatuan project into copper-zinc production which will provide for a mine life of 6.5 years. The Company is likewise actively exploring other mineral deposits in the area. (ENDS)