Canatuan employees celebrate record production
06/15/2006

TVIRD embarks on Employee Recognition Program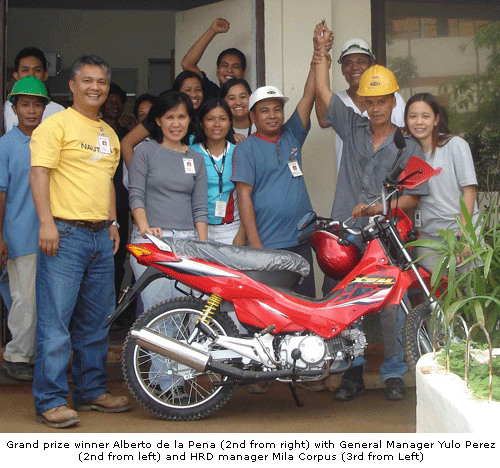 TVI Resource Development (Phils.) Inc. has recently launched its Employee Recognition Program for personnel based at the Canatuan mine, starting with the record production achieved in May 2006. General Manager Yulo Perez said the Employee Recognition Program seeks to heighten employee motivation and production efficiency to complement the projected productivity growth resulting from the ongoing plant expansion and streamlining of operations.
The Company raffled off home appliances including television sets, refrigerators, washing machines, gas ranges and a brand new Honda XRM for grand prize. Consolation prizes were cellular phones, wristwatches, wall clocks, and sacks of rice and cash prizes of P5,000 each.
"The raffle draw concept of recognizing good performance was a hit among the work force," according to Perez. "Everyone was in the mood of celebrating, especially since this is a rare opportunity for them to bring home something big for the family. Even the wives of employees trooped to the office when it was time to claim their spouses' drawn prizes."
Alberto dela Pena, truck helper/fuel pump tender of the Warehouse Department, won the Honda XRM 110cc motorcycle, considered the ultimate incentive as it is the most practical and most sought-after vehicle on the highlands of Zamboanga Peninsula.
On winning a gas stove, Beat Guard Armando Lumanjal said: "Ako po ay masaya sa napanalunang ko dahil makakatulong talaga ito sa pagluluto ko. Kasi sa panahon ngayon na tag-ulan, mahirap talaga maghanap ng mga kahoy para panggatong sa sinaing. (I am delighted with the prize I've won; this will really help with my cooking because since the rainy season is on, it is really difficult to find firewood.)
"Ako po ay masayang-masaya dahil malaking tulong din ito sa pamilya ko (I am very happy, this will really be a big help to my family)," exclaimed Rathna Arnaldo, one of the mining camp's cook, when she won the cash prize.
A strict policy had to be followed though to qualify for the Recognition Program, Perez said: "No AWOL (absence without leave). No leave without pay. No pending disciplinary cases."
For May, TVIRD's Canatuan gold- and silver-producing mine poured a daily average of 182 gold equivalent units (AuEqOZ, the standard unit of measurement for combined gold and silver production), two ounces above its daily target or a total of 62 ounces over the month.
The production target was defined by setting key production parameters such as mill throughput, ore feed grades based on the mine plan, and the plant's efficiency through metal recoveries. Perez said the secret to beating the month's production target was methodically knocking off major process bottlenecks. In addition, the Canatuan management team has also been very active in training and encouraging the work force to understand and participate in achieving production targets.
According to Perez, a tougher challenge is up for June, because of a scheduled replacement on key components of the ball mill, key equipment in the mill process. "But the work force has established a mindset to work on the next celebration," he enthused.